"How best can we see capital? This project responds to this question aesthetically with the sensitivity to matter, form, and meaning that we bring to art. Visual artists are laborers who produce lenses through which we may perceive culture. I am attempting to see connections between meaning and capital. I am specifically examining spaces where minerals and gases enter commodity chains, while tracing aesthetic signs of the paths they follow—initiated by capitalist economies. Consequently, I have been exploring natural sciences including geology, chemistry, and ecology."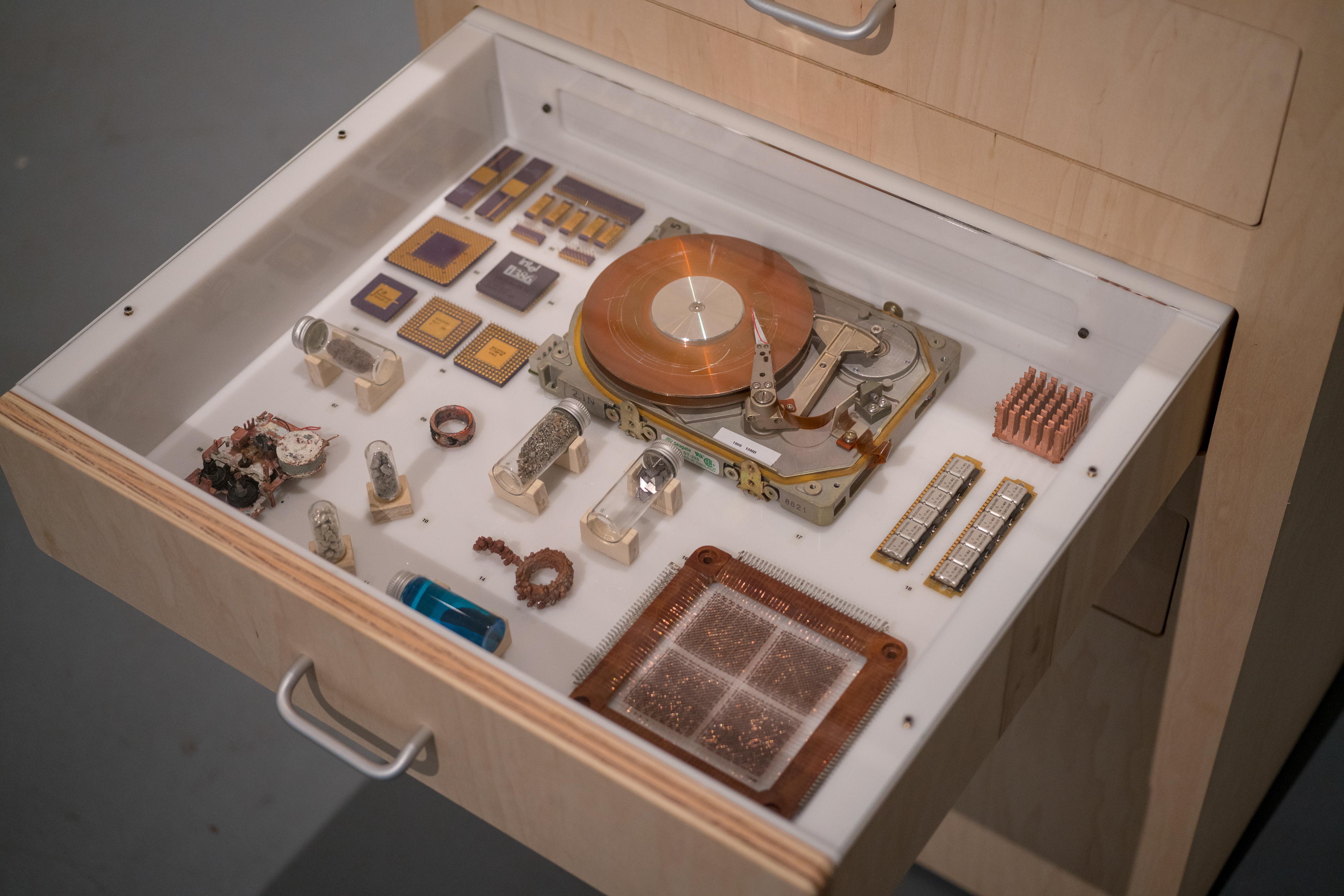 "Capital is something with a history; and it hides that history behind a signified value. An iPhone does not directly reveal its relationship to coltan mining in the Congo. In negotiating the aesthetics of capital and tracing histories, I have focused on the extraction of rare metals from electronic waste. Specifically, I am using chemical reactions to refine gold, silver, and palladium from computer parts. All metals record a natural history of chemical catalysts that originated deep within the earth, and the same metals can also catalyze economic, social, and political relations. Therefore, the project posits what alchemy might look like in the twenty-first century.
"This project is still in a nascent state. Ultimately, the current work focuses on the production of a ring. I consider this ring as slowly 'growing' from a variety of rare minerals collected from sources ranging from computers from a business college, to toenails of politicians. The ring is developing in response to sites I visit while working on this ongoing project. The next iteration will incorporate work completed 
during my expedition to the North Pole
 and at a biological research residency in the Arctic Circle region of Finland. The final ring will be the material manifestation of various supply chains through which capitalism operates; in this form it will make manifest the extent to which capital mediates between human beings and the rest of nature."
This project was made possible with support from the Oklahoma Visual Arts Coalition's Art 365 program.